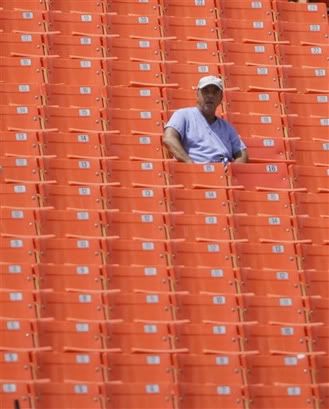 Take a look at that photo, baseball snob. Yes, I know it would never happen in Chicago, St. Louis, New York, Boston, bla bla bla bla bla. Look, I have sat in those uncomfortable, orange seats Sunday day game after Sunday day game all season long but you cannot expect others to do the same.
First of all, it's Florida for pete's sake. There is no roof and it's 95 degrees one inning and raining cats and dogs the next. Build a fucking roof and maybe you will get some more fans to come out. Another thing that might help a little is to stop getting rid of your best players.
Also, please stop charging $8 dollars for beer and even more for food that might have been cooked in the lunch lady's sweat. Those fries seriously make me sick each time I eat them. I know I shouldn't eat them but it's the only reasonably-priced meals on your menu and after 3 innings of Florida baseball, you not eating might mean an early death.
Sean Flynn, Mr. Vice-President of Marketing for the Marlins—YOU ARE THE WEAKEST LINK. Goodbye.